Full lace wigs are ideal for those who are suffering from alopecia or damaged hair. Full lace wigs are also suited for those who want to want to protect their hair or for those who like to change up their hair styles frequently without inflicting damage on their own hair.   Unlike traditional wigs, full lace wigs allow users to manipulate the hair without any obstructed parting space.  Moreover, depending on the type of hair, cap construction and overall quality, full lace wigs last for years in comparison to their weft wig counterparts.   Nonetheless, while full lace wigs have several advantages, wearing a full lace wig requires much effort to maintain its longevity.   Thus, there are a few products needed to extend your full lace wig's lifeline.
1. Overtime with frequent use and even abuse, the hair may become loosened from the lace base which causes shedding.   Shedding results in sparse areas and bald spots which can alter the full lace wig's overall look.   Knot sealer helps the knots to remain strong and attached to the lace.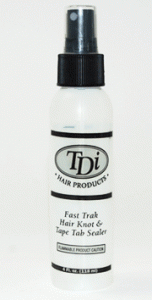 2.Silicon mix is key for processed human hair.   When hair is processed, silicone is then applied to the hair to seal the cuticle and keep it flat. As you continue to wash and wear your processed full lace wig, the silicone coating wears off which is why most processed hair experiences gradual tangling and matting.   Silicon mix will coat the hair to keep it smooth and tangle free without harsh processing.
Apply silicon mix or apple cider vinegar is pertinent to maintain the hair on your wig and provide a smooth look.